Today I am linking up with Neely and Ashley for Sunday Social! The category is TV, enjoy!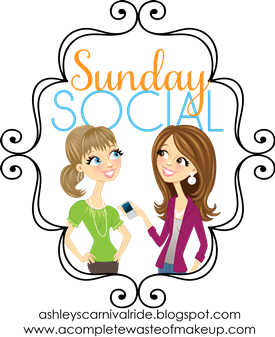 Favorite TV show of the past:
I have a few that I just can't choose between: Sex and the City, Saved by the Bell, Will and Grace, The OC, One Tree Hill, 7th heaven, ER, Brothers and Sisters, but One Tree Hill is my all time fav. I was so sad(seriously, I cried)this year when they had their series finale. Don't worry though, I have all the seasons on DVD! ;)
Favorite TV show currently:
How I met your mother, Big Bang Theory, Bachelorette/Bachelor/Bachelor Pad, anything on HGTV
(except, Holmes on Homes..yuck.), The Middle, 2 Broke Girls, Duck Dynasty ;), Modern Family, Big Brother, Biggest Loser.
Which Reality Show would you NEVER do?
Dancing with the Stars! I am so stage fright and can not dance to save my life.
Which Reality Show would you LOVE to do?
You know the "easy" ones...Deal or No Deal(I know this is more of a game show, but o well), Not sure of the exact name but 4 Weddings, I think. To win a honeymoon and judge other weddings, that would be fun.
TV personality/character that you feel is most like you?
This Question and the next one I feel like I shouldn't answer. If you know me at all, you know I do not know actors/actress'. As bad as I want to, it is just not in the cards for me. I did not grow up watching a lot of tv as a kid, and my family never really paid any attention to celebrities. So, as an adult, I just do not know people. Therefore, I am going to leave these two blank, sorry bout it.
TV character you'd want to date?
Happy Sunday.
xoxo,
Erin